Wilma Laurence

Violin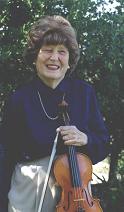 Photo by Jane Hancock

Wilma Laurence, 1999
Wilma Laurence
(1921-2009)
Classical Violinist

Wilma Laurence began music with piano lessons at the age of 8, but soon after fell in love with the violin. A native Californian, she played in school orchestras in Redwood City. Her music teacher took her and other students on thrilling trips to the City to hear the San Francisco Symphony. At the age of 18 Wilma auditioned for and was accepted as a student of the great San Francisco teacher Naoum Blinder, originally of Odessa, whose most famous pupil was Isaac Stern. Wilma attended San Jose State University and later studied at the New England Conservatory of Music.

Wilma moved to Santa Cruz in 1948 and she and her husband, also a violinist, participated in the Oratorio Society and the Monday Music Club. Wilma also wrote Club reviews for The Santa Cruz Sentinel in the 1950s. She'd go to the club Monday night, get a few hours sleep, and then get up at 4:00 a.m. to write the review on a typewriter in her kitchen before taking it downtown for the Tuesday morning deadline!



Wilma is under the arrow on the far left. (Click photo to enlarge)

In 1958 Wilma joined the Santa Cruz Symphony for its very first season (see photo above). She played in the first violin section until her retirement in 1993. Highlights of her career with the Symphony included working under George Barati and performing in a concert with Jack Benny.

| | |
| --- | --- |
| | Wilma was a member of the Santa Cruz branch of the Music Teachers' Association for about 45 years. She has instructed countless private violin and piano students (including Phyllis Hamlin, Miss Santa Cruz in 1976 who went on to become Miss Nevada and participate in the Miss America pageant with piano as her talent). Wilma also taught music students at Bethany Bible College in Scotts Valley in the 1970s. |




When asked about the main rewards of doing music, Wilma replied, "Well I think knowing other people that are musicians. I think they're the best sort of people to know!"