S. D. Batish

Harmonium, Vocals
<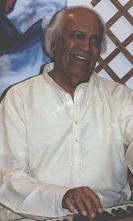 Photo by Jane Hancock

S. D. Batish, 1999
Click on the photo, above to visit the Batish Institute website and find out more about S.D. Batish, his recordings, books and instructional videos.
S. D. Batish
(1914-2006)
Indian Singer, Instrumentalist, and Composer

Pandit Shiv Dayal Batish, or S. D. Batish, was born in 1914 in Patiala, India. His mother, maternal grandfather and uncle were musicians, and S. D. began singing at a very early age. When he was 17 he was invited to participate in the dramatic club of the Maharaja of Patiala, where he acted and sang in the famous Parivartan drama and earned 17 encores at every show! As a young man, S. D. was accepted as a disciple of the Guru Shri Chandan Ram Charan, an authority on North Indian music, poet and composer. During this period S. D. learned the harmonium and then took up the sitar (and eventually came to play many other instruments as well, including the violin, dilruba, and vichitra veena).



S.D. Batish singing with harmonium.

S. D. broadcast his first radio program in 1936, from the studios of All India Radio, Delhi. He soon became a "top of the charts" recording artist with EMI and also began to sing and perform in movies. Highlights of this period were his recordings of "Pagadi Sambhal Jatta," and "Kahamosh Niga Hen," hit songs from movies that brought him national recognition.


S. D. playing a dilruba, London, 1968

In 1947 S.D. joined the film industry in Bombay in the capacity of music director, composer, and singer. While working in the studios, S. D. composed many successful songs and directed every major singer in the film business. He also continued to practice classical Indian singing, earning the Tansen Award of outstanding vocalist from Sur Singaar Samsad, the leading organization in Bombay devoted to classical music. In 1961 the music industry honored him for 25 years on the Indian music scene with a silver jubilee celebration at the prestigious Ranga Bhavan Auditorium, Bombay.



S.D. with his son Ashwin at their studio, 1999

S. D. and his family moved to London in 1964 and for several years he contributed vocal and instrumental music to BBC radio and television. During this period he also provided sitar and vichitra veena music for the Beatles film, Help, and taught dilruba to George Harrison's wife.

In 1970 S. D. was invited to Santa Cruz to give lectures on Indian music at UCSC, and he and his family relocated to the area. In Santa Cruz he founded the Batish Institute of Indian Music and Fine Arts, on Mission Street, and with his son Ashwin and daughter Meena, began to offer classes in singing, instrumental music and dance. Today, S. D. continues to compose and record prolifically. Some of his releases include books on North Indian music, compositions in over 2200 Carnatic ragas and over 700 North Indian ragas,and instructional videos. He says the main rewards of having a musical life are "a beautiful existence. Without music, the whole life is incomplete."