Lois Sloan

Irish Harp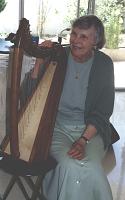 Photo by Jane Hancock

Lois Sloan, 1999
Lois Sloan
Irish Harpist

Lois Sloan started off in music playing a mini-sized violin at the age of five. Born in Florida in 1924 to a mother of Swedish descent and an Irish immigrant father, she spent her youth in Chicago. There she played in the school orchestra and sang soprano in the youth choir of the Northshore Baptist Church. When Lois graduated from Senn High School she was given a special award for her service as a musician


Lois as a teenager

At the age of 18, Lois moved to California to find work. While demands on her time forced her to put aside her violin, throughout her adult life she continued to sing in church choirs (and now sings with the First Prsbyterian Church of Santa Cruz Choir). In her retirement Lois returned to instrumental music by taking up the Irish harp, learning much about it while working in Lucan (a small village just west of Dublin) from 1984-1989. She mostly plays Irish songs and tunes, including many well-known hymns of Irish derivation.


Lois performs regularly at Residential Care Facilities.

Lois loves the sound of the harp. As she says, "It makes me feel joyful. There's a serentity about it. I just feel refreshed after I hear it or play it..I notice I can be tired and grumpy and go in there and start playing and it's like I have a new lease on life."

Lois with some of her young friends

Lois encourages young people to play music through her work as teaching assistant at Community Music School's Celtic Music Camp for children. For those who think they might like to try playing music themselves, Lois asserts, "if you think you're interested in it, go for it, because regardless of what age you are, if you like it, you can do it!"