Bill St. Pierre

clarinet, flute, saxophone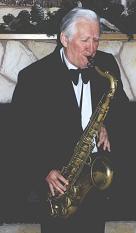 Photo by Jane Hancock

Bill St. Pierre, 1999
Bill St. Pierre
Band Musician, Composer and Arranger

Born and raised in Providence, Rhode Island, Bill St. Pierre started playing clarinet in school at the age of 13. Bill took private lessons for several years and played in the New England youth orchestra in Connecticut as well as a Polish polka band. After high school, Bill joined the air force. He learned how to arrange music at the Berklee School of Music in Boston near his base and was soon arranging pieces for the air force jazz and concert bands.


Bill at UCLA

After getting out of the service in 1952, Bill moved to California and attended UCLA, getting a BA in music and a teaching credential. After graduating Bill taught high school for a while but soon became extremely active as a band musician. Groups he performed with include Matty Melneck's band (backing up Frank Sinatra, Sammy Davis Jr., Lena Horne, Michey Rooney, Ray Bolger and Dean Martin at Cal-Neva in Lake Tahoe); the Leighton Noble band (backing up Andy Willimas, Jack Benny, Wane Newton, Liberace and Benny Goodman at Harrah's Club, Lake Tahoe); the Dick Stabile Band (backing up Tony Bennett, Sergio Franchi, Helen Morgan, and Tommy Sands at the Coconut Grove and Ambassador Hotel in Los Angeles), and the Gerry Gray Band. He also worked as composer, arranger and conductor for the American Folk Ballet, which toured extensively (and even appeared with Diana Ross and the Supremes).

| | |
| --- | --- |
| The Endless Summer, a surf movie classic, was one of many productions that Bill composed music for in the world of theater, television and film. He also arranged three songs and dance numbers on the original Charlie's Angels television show for Aaron Spelling Productions. | |

Bill moved to Santa Cruz in 1970, and has lived in Rio Del Mar, Felton and Ben Lomond. He has played regularly at several venues in the area, including the Dream Inn and Seascape, and with such bands as the Robin Anderson Big Band and the Monterey Peninsula Jazz orchestra. He now plays with Adrian Davis Presents, based in San Jose, and the Esquire Big Band at the Mt. Madonna restaurant. Every October Bill serves as music director for Hidden Valley Music Seminars' senior band week in Carmel Valley.


Bill at home. Photo by Jane Hancock

Though busy, Bill still makes time to compose and arrange music on his Macintosh computer. He says music is especially fun at this point because "for me now, it's not so much that I have to have it for a career. I just enjoy doing it when I feel like I want to do it." While music is rewarding, making a living at it--even for the best of musicians--can be challenging. Bill's advice? "Don't give up your day gig!"