Dance Around Molly
Bios
The members of Dance Around Molly have been playing together for many years. The band consists of husband and wife team Galt Barber and Janet Herman, and their long-time good friend Mike Long.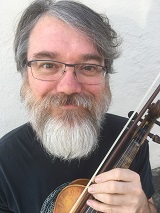 Galt Barber
Galt took up fiddle as an adult and made rapid progress by practicing intensely and taking workshops with some of the finest visiting Irish players in California and at Willie Clancy Week, Feakle Music Festival, and Joe Mooney Summer School in Ireland. He is also a self-taught fluent Irish (Gaelic) speaker who has been profiled in the online magazine Beo, based out of Dublin, and The World in Words radio program on Public Radio International (PRI). His rousing, energetic fiddle playing is much in demand at gatherings of the Bay Area "gaeltacht" (Irish-speaking community).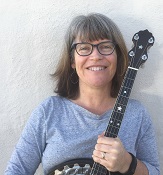 Janet Herman
Janet holds a Ph.D. in Folklore/Ethnomusicology from UCLA, where she studied American and Irish folk music. She's taken vocal workshops at the Joe Mooney Summer School in County Leitrim and banjo workshops at Gannon's music week in Spiddal, Connemara. Janet was a vocal soloist with Mary McLaughlin's Cor Angli (Irish Gaelic choir) for three seasons and for the last two years has conducted the choir for the annual Irish Gaelic Mass at St. Joseph's parish, Mountain View, CA. Janet has recorded with a range of artists, including Zambra, Neal Hellman, Banana Slug String Band ("Return to Me in the Morning"), Perpetual Help Chant Choir ("Bha Sneachda Na Chuibhrig"), and Nikki Ragsdale. She was formerly Chair of the Santa Cruz/Monterey branch of Comhaltas Ceoltoiri Eireann (Irish Musicians' Association) and a programmer for the Eagle's Whistle Celtic show on KAZU public radio, Pacific Grove.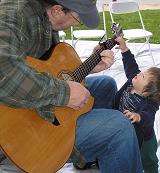 Michael Long
Though his main focus is guitar, Mike plays pretty much anything with strings. He is also an assiduous collector of Irish tunes, and is the compiler of The King Street Sessions Tunebook, a hefty volume popular with session players throughout California and beyond. In addition to his work with Dance Around Molly, Mike plays regularly for Irish set dancing at Lily Macs pub in Sunnyvale, CA, and for many years was the lead musician for English Country Dancers of Santa Cruz. Mike has composed many Irish style tunes, and Dance Around Molly recently recorded his tune "Road to Hana" for the album Stark Raving Celtic by the band Charmas.