Per la tutela e la diffusione della lingua e della cultura italiane nel mondo
Dante Alighieri Society of Santa Cruz
Dedicated to the Study and Promotion of Italian Culture and Language
The Dante Alighieri Society of Santa Cruz is a 501(c)(3)corporation.


October 22, 2017 - 7pm
The Amazing Sofonisba, A Lecture by Dr. Robert Davis
Perhaps the most talented Renaissance painter you never heard of, Sofonisba Anguissola was famous during her long life as a portraitist, genre artist, and still-life master. To journey through her work is to encounter sixteenth-century Italian art from an entirely new point-of-view. Dr. Davis taught Italian and Mediterranean history at the Ohio State University. He has published eight books and numerous articles on Venice, Rome, and popular culture in Medieval and Renaissance Italy. See Films/Lectures for more information.

The Dante Alighieri Society of Santa Cruz has awarded two scholarships of $1,000.00 each to Cabrillo College students Renata Zacarias and Chloe Nelson! More info here

Congratulations to our 2017 Massimo Gelato winners, Judy Garrison and Sandi Spanfelner. To be eligible for the drawing, which was held Jan 29 at the Dante film, memberships had to be renewed by Dec 31, 2106. Complimenti!







Like us on Facebook!

P.O. Box 4253
Santa Cruz, CA 95063
E-mail: dantesantacruz1265@gmail.com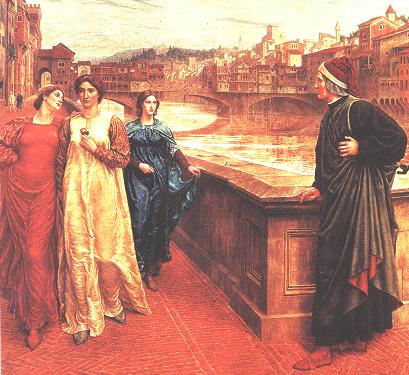 Dante e Beatrice sul Ponte di Santa Trinita a Firenze, by Henry Holiday (1883)
Santa Cruz website created by Janet Herman
www.folkplanet.com