Fáilte! (Welcome!)
to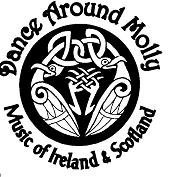 Dance Around Molly is a trio from Santa Cruz, CA specializing in traditional Irish music. We play lively tunes (jigs, reels, polkas etc.) and perform songs in English and Irish (Gaelic). We're perfect for St. Patrick's Day dinners, wedding receptions, birthdays, office parties, and other festive events!

Dance Around Molly features:

Galt Barber - fiddle and button accordion
Janet Herman - vocals, tenor banjo, mandolin, and tin whistle
Mike Long - guitar and mandolin
To learn more about members of the band, click here.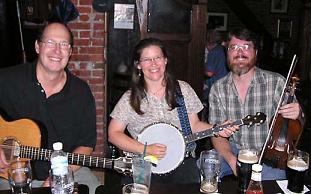 Dance Around Molly has performed at many parties, pubs, clubs, and celebrations throughout the Monterey/San Francisco Bay Area. For a partial list of appearances and listener comments, click here.

Contact us!
phone: 831-429-1691

e - m a i l: d a n c e a r o u n d m o l l y AT f o l k p l a n e t . c o m OR
d a m AT f o l k p l a n e t . c o m


MP3 Sound Samples:

Hornpipe Reel Jig Polka
Flowers of Magherally (song) Bruach na Carraige Báine (song)

Note: If you are having problems with a new version of MS Media Player, which prevents streaming speeds over 56K bits/sec., you can either right-click on the link and save it to your hard-drive for later play, or else you can use another player such as Realplayer, Winamp, etc.

Dance Around Molly is the featured band on the recording Seansaol na hAislinge (Old Life of the Dream) by sean nós singer Nikki Ragsdale. One listener says our trio performs "with equal amounts of talent and fun" and another proclaims our music "delightful." Read more at CD Baby.

Backdrop by http://www.webomator.com